Master Mind Alliance Meeting, January 25, 2017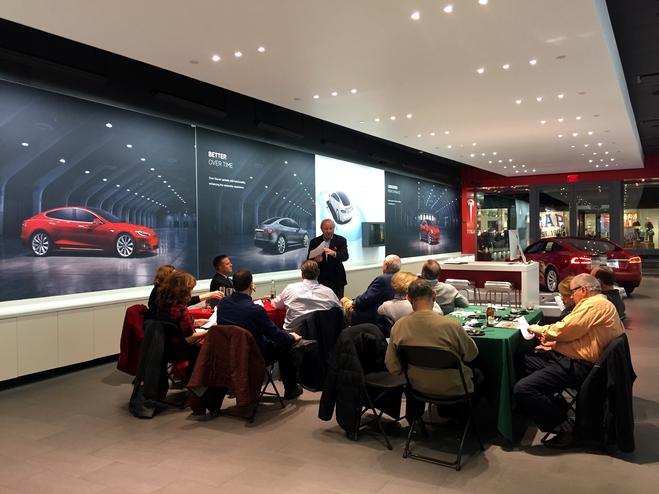 Our Latest Master Mind Alliance meeting occurred January 25, 2017 at Tesla Motors.
Some of the finest minds in the Greater Chicago area gathered to put these minds together and share ideas.
Tesla Motors, our gracious host presented their amazing 2017 models. This all-American company showed how 100% of their purely electric vehicles are now available for driverless action. No fuel tanks, no drivers if you need to get dropped off at the airport -  but plenty of speed, environment friendly technology and significant luxury. Tesla offered my guests test drives and this special bonus: Take a brand new model home for an evening at no charge!
My keynote speaker, Matt Rosborough of Sun America, kept the education flowing with a concise 6 minute presentation on Value Funds in the market.
 I covered in less than ten minutes how my clients utilize diversification to strengthen their portfolios both in the past as well as charging forward into 2017. We showed how to use the sectors of The S and P to our advantage. 
Maggios, strategically located next door, provided the delicious catering with dishes including Chicken Parmesan, Chicken Calabrese, Mushroom Ravioli (and stuffed mushrooms) and my personal soul food: spaghetti and meatballs! The desserts were heavenly.
Beverages covered the gamut from Champagne, to craft beers to BV Wines of Sonoma County, CA. 
If anyone is interested in attending an upcoming MMA meeting for the food, wine, networking or education, feel free to contact my office on Main Street in Downtown Park Ridge by calling 847.759.0055.
Happy New Year!